Our project-focused strategy guarantees performance by delivering unrivaled productivity, reliability, and service.
Adaptable services. Professional Performance.
Contact Us!
Services
Carolina Concrete Finishing provides great value to your projects!
Residential Concrete
We pour over 500 slabs for home builders every year, in addition to tending to homeowners' needs for patios, driveways, repairs, etc. With a solid reputation and an A+ rating from the Better Business Bureau, we stand behind everything we do.

Contact Us Today!
Commercial concrete
Carolina Concrete Finishing has over 40 years of experience in all types of concrete construction. From lightweight elevated decks to heavy-duty pavement, we will exceed your expectations on what a concrete contractor can do.
Contact Us Today!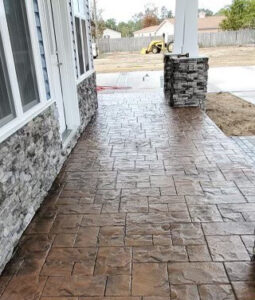 Stamped and Colored Concrete
Stamped and/or colored concrete is a decorative and durable choice for patios, driveways, pool decks, or anywhere else you can imagine! Stamped and colored concrete can imitate everything from natural stone and tile to brick and wood.

Contact Us Today!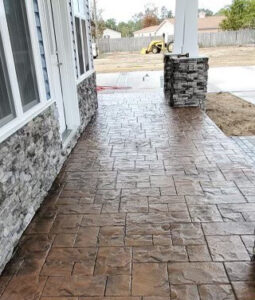 Stamped concrete
Stamped concrete imitates natural stones like slate and flagstone and tile, brick, and even wood. It's famous for adorning patios, pool decks, driveways, and other areas because of the large range of pattern and color options.
Contact Us Today!
Residential Concrete
Whether you're considering expanding your driveway or building a new home, CCF can help!!

Contact Us Today!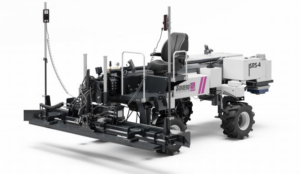 Laser Screed Service
Currently Carolina Concrete Finishing employs a Somero SRS-4 boom screed.

Laser screeds offer many benefits for concrete contractors when compared to manual screeding techniques, they can achieve laser-precise flatness and levelness every single time. Floors are typically flatter, stronger, and more level than those produced by conventional methods. Laser screeds also allow you to get more work done with fewer workers because the equipment is doing the majority of the strenuous work. This helps increase efficiency on the jobsite as larger daily placements can be completed with fewer workers. This technology helps assure greater accuracy is achieved on every job, at a rate greater than manual labor alone.
Contact Us Today!